Selling Your Sarasota Home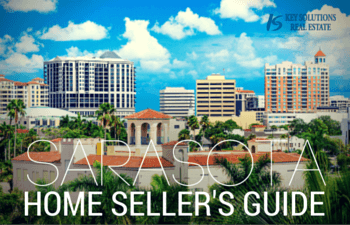 There are any number of reasons you could need to sell your Sarasota home, but whatever yours is, the Key Solutions Real Estate team is here to help. Selling can be an overwhelming process to begin with, but especially if you're thinking of going at it alone. If you know you need to list your home, the first decision you need to make is whether or not to enlist the services of a trusted local real estate professional. From there, they can help you with the next major questions, like how much should you list for and should you sell before buying.
There's also contracts to consider, negotiations, home inspections, open houses, the list goes on and on. Doing all of this on your own means that you'll have to be available during these times. Alternatively, if you have a real estate agent, they can take care of everything from the initial consultation to closing, all the while ensuring that you're home is sold in a reasonable amount of time and for top dollar.
Whether you're selling a home in the city or out by the sea, you need an experienced agent with a wealth of market knowledge to know how to effectively price your home and showcase it on the market. Contact the Key Solutions Real Estate team and keep reading to learn more about our unique marketing strategy.
Suggested Articles For Sarasota & Siesta Key Home Sellers
How To Sell Your Home In Sarasota, FL
1. Hire A Real Estate Agent
Many years ago, selling your home typically included putting a sign out front and an ad in the local newspaper, but times have certainly changed. The internet brought with it the creation of the Multiple Listing Service, which is now the best source of listings online, bar none.
2. Take Care Of Any Necessary Renovations
Now that you've decided to sell, it could be a great time to take care of some things to improve the value of your home. Your Key Solutions Real Estate agent will be able to help you figure out which projects would have the best return-on-investment and which ones your home can do without.
3. Price It Right!
Setting the right price is one of the biggest factors that goes into effectively marketing your listing. If you want the home sold fast, you might have to set the price lower. Alternatively, if you think the home is worth more, your home may be on the market for a little longer. So how do you determine the right price? The best way to find out how much your home is worth right now is consult the expertise of an industry professional. The home values are always changing, so there's a very good chance that your home is not worth the same as it was five or ten years ago, for better or worse. To find out how much your home is worth, request your no-obligation property valuation today!
4. Get Your Listing Noticed
Selling today takes a lot more than putting a sign out front, which is what makes it hard for seller's who are working on their own to effectively market their home. When you work with a professional, they'll list your home on the local Multiple Listing Service (MLS®), which is shared among all the other registered agents in the area and their respective websites, similar to this one. Our website, for example, is targeted to bringing buyers closer to the listings they want to see, which is just one of the many great reasons to list with the Key Solutions Real Estate Team. In addition to sharing our listings with our peers and their clients, we also promote our listings on social media, and use creative solutions to showcase your listing to maximum exposure.
5. Negotiate With The Buyer
If a buyer notices your listing and wants it for their own, they'll put in an offer. This can be higher, lower, or on-par with your asking price, depending on how motivated they are to but your home. It's up to you whether you want to accept or reject the offer. Both parties can work out other contingencies during this time as well.
Negotiations can be tricky and fickle at the best of times, but having an experienced and confident negotiator on your side will not just put your mind at ease, but it can also ensure that you and the buyer are each receiving a fair deal.
6. Close The Sale
Congratulations! It's time to finalize the paperwork and hand over the keys. With that said, it's not entirely finished yet. In many cases there will be some remaining closing fees, but the bulk of the work is over and you've successfully sold your home. If you need any help cleaning out your house or fixing something that was agreed upon in the contract, your real estate agent will be happy to make recommendations for other local professionals, like cleaning services, movers, and trade businesses. Whatever we can do to help with your transition out of the home, we will.
To learn more about the selling process or to find out how much your home is worth, get in touch with the Key Solutions Real Estate team today! Send us a message or give us a call at 841.894.1255.