Sarasota Beach Guide: Beaches in Sarasota, FL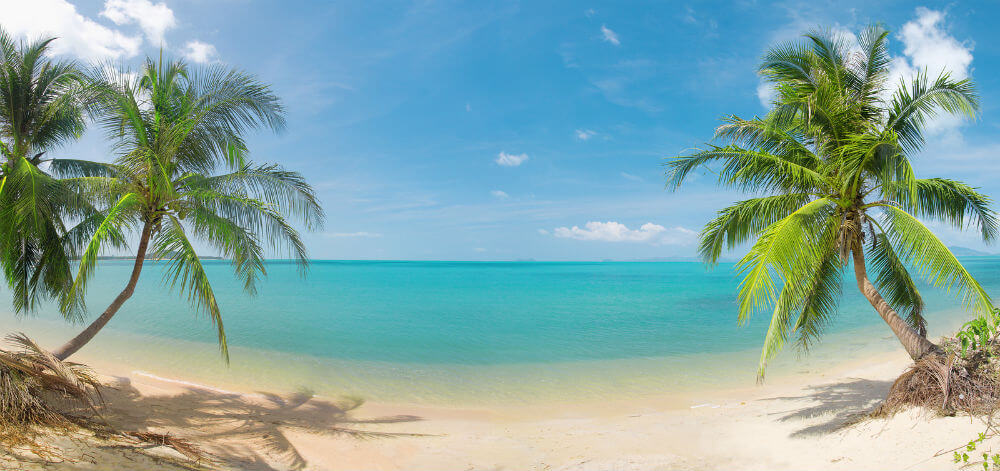 Are you looking for the ultimate beach getaway without being crammed onto a resort loaded with tourists? No matter what time of year it is, hop on a plane and embrace the island life on a Sarasota Beach in beautiful Florida. That's right; you don't even have to update your passport to feel like you've jetted off to a tropical island. The surplus of beaches in Sarasota offer whatever beach experience you're yearning for. If you're escaping to the sea for solitude and relaxation, slip off to one of the area's quieter beaches and trace designs in the sand as you drift away from real life. If you're the more adventurous sort, set out on a boat or surfboard or give wind-sailing a try!
Beaches in Sarasota County consist of a chain of five tiny islands and one mainland beach. Regardless of the Sarasota beach you choose, you're sure to be treated with frolicking dolphins, friendly locals, and quirky Florida style at every turn.
#sarasota-beach-guide-jump-links#
Siesta Key
Siesta Key has won multiple awards, including the TripAdvisor Traveler's Choice Award for Best Beach, and is doted upon by locals, newcomers, and regular tourists alike. If you're reading this from the depths of winter, you surely have the perfect beach mapped out in your head. Fluffy white sand, foamy blue water, and unlimited sun are about all you need for the perfect beach experience, right? Siesta Key definitely meets these three criteria, but it also offers so much more! Siesta Key is actually comprised of three different beaches, so along with unlimited sunshine, you're getting unlimited recreational opportunities.
Siesta Beach
Voted the #1 Beach in the U.S., Siesta Beach is the place to be if you're into socializing or people watching. Tennis and volleyball courts offer a local respite for Sarasota residents, and parents can escape to a shaded playground. Forgot your cooler full of snacks? Concession stands offer snacks and cold drinks for the forgetful types. This is a popular beach for families because the water is shallow, the waves are gentle, and there are lifeguards on duty year round.
Crescent Beach
Crescent Beach is the quieter version of Siesta Beach. It's tucked away south of Siesta Beach and has just one public access road, giving it a feeling of seclusion. The sand is 99% white quartz and was voted as the "World's Finest, Whitest Sand" in 1987 during the Great International Sand Challenge. If you like to fish, throw your line out from Point of Rocks, a collection of limestone ledges dotted with coral formations and a smattering of tiny marine life. This is a favorite area for kids because of the number of tidepools and a favorite for adults as it's a renowned location for snorkeling and diving.
Turtle Beach
If you're heading to Turtle Beach, make sure you pack your sporty bikini or trunks. This beach is known less for its tropical feel and more for its great recreation. There's a playground, volleyball court, and horseshoe pit, but if you prefer to play in the water, there is a boat launch area and fishing in Blind Pass Lagoon. The sand here is darker and rich with shells. It's a wonderful beach to take the kids to if they like to sift through the sand for a myriad of treasures.
If you're thinking of making the move to Siesta Key, be sure to browse through our Siesta Key real estate listings. If you're looking for a maintenance-free lifestyle or a vacation home on this popular Sarasota Beach, check out the Siesta Key condos for sale below!
#popular-siesta-key-beach-condos#
Longboat Key
Longboat Key is an 11-mile long barrier island located between Lido Key and Anna Maria Island. Its average year-round temperature is a solid 75 degrees, making it the perfect place to enjoy one of its three pristine beaches. This small island is also popular due to its championship golf courses.
Longboat Key Beach
Longboat Key Beach is directly next to some upscale shops and fancy restaurants, but they're all hidden from view behind tropical foliage. Parking is very limited at this beach, and it can get busy when the resorts are full. Park at one of the resorts and walk or get there early enough to snag a parking spot.
Beercan Island Beach
Beercan Island Beach is quite small and is only accessible by boat via Longboat Pass. If you're out for the day on your boat, consider throwing your anchor out at Beercan for a quiet afternoon on this little white sandbar. It's popular with the party crowd, though, so if you're looking for a quiet escape, you'd have better luck with one of Longboat Key's other beaches.
Whitney Beach
Whitney Beach is only a quarter of a mile long and is situated across from Whitney Plaza. This beach is unspoiled by humans despite the condominiums lining a small section of the beach.
If you're looking for a life of luxury and convenience with easy access to incredible Sarasota beaches, explore all available Longboat Key real estate.
Manasota Key
Manasota Key is a 7-mile long barrier island located between Sarasota and Fort Myers, just off the coast of Engelwood. Known as the turtle-nesting capital of Southwest Florida, Manasota Key offers an abundance of wildlife viewings, recreational activities some of the least crowded beaches in Sarasota County.
Manasota Beach
Manasota Beach is only accessible via the north bridge or by boat on the Intracoastal Waterway. When you park your car, traverse a series of sandy paths to get to the beach. The white sands are pristine and the water current is ideal for swimming, body boarding, and even snorkeling. Manasota Beach is made up of over 14 acres of ocean and sand dunes, and lifeguards are on duty year-round. Manasota is a great place to take the entire family because of its seclusion and gentle waters, but also because there are shaded picnic tables, fire pits for cozy coastal evenings, and bathhouses.
Blind Pass Beach
Blind Pass Beach, also known as Middle Beach, is a catch-all for every type of beach activity you could imagine. Swim, search for shells, fish, boat, or even go for a hike on over 60 acres of beautiful oceanfront land. There's free parking, picnic tables, and showers. There are no lifeguards, so keep that in mind if you're bringing your kids. You'll likely see more artists, photographers, and fishermen than hardcore beachgoers here because of the seclusion, so this is a great place to bring a book or a comfy beach chair to lounge in.
Stump Pass Beach
Stump Pass Beach is another quiet spot with uninterrupted beach access. There aren't many amenities other than restrooms and free parking. There are some covered picnic tables, and the boardwalk takes you through the dunes lining the shore. This Sarasota beach is a great place for bird-watching, snorkeling, and swimming. Since there aren't very many amenities or lifeguards, it's probably best to take your smaller kids to a more populated beach.
Lido Key
Lido Key is located off the coast of Sarasota, and just north of Longboat Key. This stunning island has a variety of beaches, each one offering something a little bit different to its visitors.
Lido Public Beach
Head to Lido Public Beach in North Lido if you're looking to mingle with the masses. St. Armand's Key is just a short hop-skip away from the beach, so you have quick access to the shopping district, downtown Sarasota, and oceanside hotels. With everything so close together, this beach has been popular with the tourist crowd since the 1960s. Locals love Lido Beach because there's a swimming pool, plenty of free parking (critical during peak tourist season), bathrooms, and lifeguards.
Ted Sperling Park & South Lido Beach
While the northern part of the island is always busy, the southern point is quieter and less crowded. Ted Sperling Park, or South Lido Beach, is Sarasota's top eco-tourism spot, encompassing 100 acres of pristine coastal habitat. It's a popular nature park ideal for kayaking through mangrove tunnels, viewing wildlife on one of two walking trails, and exploring the Brushy Bayou estuary. The Pass is quite popular among fishermen, and free parking, picnic tables and a playground keep the rest of the family happy. Due to the nature of the habitat, the water currents are very strong, so swimming is not advisable, nor are there any lifeguards on duty.
If you'd like to live close to the popular and amazing Sarasota beach, check out our Lido Key real estate listings.
Anna Maria Island
If you love history, then Anna Maria Island is a must-see as the Old Florida charm is abundant here. You'll see locals draped in lightweight but colorful shirts, worn flip flops, and a tan that would be the envy of everyone up north. Nobody is in a hurry, and everyone has time for a friendly chat or a cold beverage as they catch up on the local life. Anna Maria has escaped unscathed from the real estate boom, and high-rises and chain restaurants are noticeably absent here. Instead, you'll sprawl out on the beach and have a completely unimpeded view from wherever you are. The island is only seven miles long, but it's home to a handful of spectacular Sarasota beaches.
Anna Maria Beach
Anna Maria Beach is a quiet beach, great for catching up on a good book or enjoying some down time with a couple friends. Head up to the iconic Sandbar Restaurant for a meal on the sand as you watch the sun sink behind Tampa Bay.
Coquina Beach
Coquina Beach is the largest on the island and sits on the most southern point of Anna Maria. There's plenty of beachfront space, tons of parking, lifeguards, concessions, and restaurants.
Manatee Beach
Manatee Beach is quite popular as well, mostly because it has free parking, concession stands, and lifeguards. Make sure you arrive early or you won't get any parking. Entertain the smaller family members at the playground and send the teenagers off to the volleyball courts. Even though Manatee Beach is pretty popular, it's big enough that you won't lack for room whether you're sunbathing or building sandcastles.
Holmes Beach
Holmes Beach is fairly quiet if you're looking to get drowsy as you listen to the waves kissing the shore. There aren't any facilities or lifeguards which is probably why it's so quiet. It's tucked away on Anna Maria's residential side, so you'll likely only find locals here.
If you'd like to be within walking distance to any one of Anna Maria Island's amazing beaches, browse through up-to-date Anna Maria real estate listings now!
Casey Key
Casey Key is comprised of eight miles of pristine island and beach between Siesta Key and the Island of Venice. It's mostly residential and secluded, thus devoid of throngs of people who come to stay in beachfront condos and resorts. If you're looking for a small island feel, Casey Key is it. The one road that runs across the island is barely more than one lane wide, and there are no traffic lights! This is where a lot of locals head to when they're trying to escape the tourist crowd.
Nokomis Beach
Nokomis Beach is 20 acres of unfettered sea grapes and Australian pine trees. It provides public access to the intercoastal waterway and the Gulf of Mexico, so there are boat ramps, plenty of fishing sites, lifeguards, and restrooms with showers. The covered picnic tables have grills, making this a prime spot for family get-togethers. A boardwalk meanders through the dunes, and gazebos and benches are placed in the perfect positions to watch the sunset. A concession stand and a bait store are just a short walk away at North Jetty Park. Parking is always free, but locals fill the place up quickly, so get there early or get ready for a walk.
North Jetty Beach
North Jetty Beach is Casey Key's most southern beach. It has great amenities with free parking, concessions, a bait shop, showers, bathrooms, and lifeguards. If you love dolphins, this is a great place to catch pods of them playing in the channel. The swift currents the dolphins love so much make for great surfing, too! Enjoy a picnic in the generous shade of the Australian pines before soaking up your daily dose of vitamin D in the dunes.
Casey Key real estate is excellent for both year-round living and vacationing, especially when you're close to so many spectacular beaches!
Sarasota beaches are almost as good as flying to the Caribbean, and you don't need a passport or expensive international plane tickets. Whether you're the type who wants to sample every beach-related sport available or you just want to dangle your toes in the warm Gulf waters, there's a Sarasota beach for every personality.
We're Here to Help!
Let the Key Solutions Real Estate Group help you find the perfect piece of Sarasota real estate to suit your needs and lifestyle. Call us at (941) 894-1255 or send us a message today!
---