Sarasota Property Management Services
When you choose Key Solutions Property Management services, you are choosing the best. Our many years of experience in property management and residential construction will allow you to own your Sarasota property worry free.
Chose one or all from our menu of services offered for your rental, vacation home or investment property and see how our qualified, professional staff will assist in every aspect of the process. And because we have an in-house maintenance and management staff, we can provide these services at a price you can afford.
For more information about services, including Online Payments, Maintenance Requests and specific details for Tenants and Owners, visit our Key Solutions Property Management website.
If you're looking to invest from afar but aren't quite sure what you expect, why not try a rental first! Check out all of the homes and suites for rent in Sarasota now, and learn more about the local rental market.
Key Solutions Property Management
We provide a range of property management services for our clients, from renting out their properties and cleaning them to remodeling the insides and ensuring they're secure while you're in your primary home. If you're looking to invest in a rental property and just don't have time to deal with the hassle and stress of maintaining and renting out the home from afar, why not enlist some help? Trust the Key Solutions Property Management Team with all of your needs! Here are just some of the services we offer.
Routine Maintenance, Repairs, & Remodeling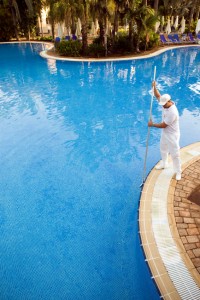 Keep your property in tip-top shape with scheduled inspections. Our experienced handymen can make the repairs immediately at the fraction of the cost of others.A 24- hour emergency phone number is here for your peace of mind. We will have a team available in the event of a hurricane to secure your property.
We are also partnered with licensed, quality contractors that can do anything from the smallest remodeling jobs to a turn-key addition.
Lawn and Pool Maintenance
We can hire state licensed pool technicians and skilled landscapers to keep the outside of your home looking beautiful while you're away.
Leasing Services
We will get your place rented with our full-service leasing department, which includes advertising & showings, screening tenants, and executing the lease. Your property will be listed in the MLS complete with a virtual tour and featured on Trulia.com, Zillow.com and Realtor.com.
Security Services
Log into our computer system and view your home any time. Your peace of mine is our primary objective.
Professional Accounting Services
We use state-of-the-art software which allows you to have a detailed accounting of your income and expenses no matter where you are.
Invest & Rent In Sarasota With Confidence
If you're looking to buy an investment home in Sarasota, make the most out of your investment by ensuring it's rented, maintained, and ready for you when you want to visit. Learn more about our property management services by getting in touch with us today. Send us a message online or give us a call at 941.894.1255 for more information.