Gulf Gate Homes
One of the most affordable of Sarasota communities, Gulf Gate offers real estate that's as desirable for first-time home buyers as it is for retirees or anyone in between. Gulf Gate's convenient location near shopping, restaurants, schools, churches and recreation is unequaled among Sarasota communities. An added bonus for Gulf Gate residents to enjoy all year around is the plentiful Florida sunshine!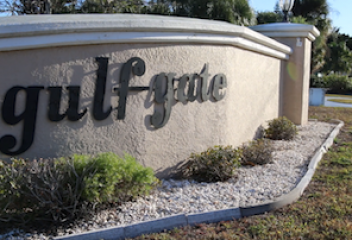 Gulf Gate
December 5, 2023
Make the Search for Sarasota Real Estate Quick & Easy
Register with Key Solutions Real Estate Group and gain free, instant access to exclusive search tools.
Create custom searches, bookmark your favorite listings and get email alerts when Gulf Gate homes matching your dream criteria hit the market.
---
Gulf Gate Homes and Condos in Sarasota
The first Gulf Gate division was begun in 1960 and finished in the late 1970s. The beautiful dwellings range in size from 1,000-square-foot two-bedroom, two bath homes to 2,700-plus-square-foot four-bedroom, three bath homes situated on lots ranging from 7,500 square feet to nearly one-half acre. Many of these residences feature two-car garages, tile roofs, and pool areas.
Most of the highly-affordable homes in Gulf Gate Manor, built in the late 1960s, feature concrete block construction and tile roofs. Owners of these 1,000 to 2,000-square-foot residences pay nominal monthly Home Owners Association dues, which conveniently cover basic cable and grounds maintenance.
Constructed between 1970 and the early 1980s, the Gulf Gate Woods division consists of single-family homes ranging in size from 1,100-square-foot two-bedroom, two bath residences to 2,900-square-foot four-bedroom, three bath homes sitting on lots sized 8,500 square feet to almost three-quarters acre. Most of these desirable dwellings feature concrete and stucco construction, tile roofs and two-car garages.
Located on Pineview Circle, the newest division, Gulf Gate Pines, is privately nestled among clusters of beautiful trees. Constructed during the decade between 1978 and 1988, these fashionable homes are situated on lots ranging from 8,500 to 11,500 square feet. Many of the 1,700 to 3,000-square-foot residences feature two or three-car garages and swimming pools.
Gulf Gate Amenities
Local residents own and operate the establishments located in Gulf Gate Village. Shopping locally is a pleasure for Gulf Gate homeowners whose neighbors are the merchants of the specialty stores. Also located in the Village are locally-owned restaurants and breweries.
Gulf Gate students attend school at Gulf Gate Elementary, Brookside Middle and Riverview High. The Sarasota County-operated Gulf Gate Public Library conveniently serves the neighborhood.
Known for its two difficult courses, the community's semi-private golf course has been a favorite among Gulf Gate residents for over 50 years. Club membership is optional. Other nearby golf courses include the Bobby Jones and Serenoa Golf Clubs.
A short drive over the Siesta Key Bridge takes Gulf Gate residents to the popular sandy Siesta Key Beach. Beaches in the Sarasota area are well known for myriads of recreational opportunities such as swimming, boating, fishing, and snorkeling. Not only are the sidewalks and streets ideal for joggers and cyclists, but they provide a convenient connection to the area's scenic trails and parks. In fact, there's even a bicycle route to Siesta Key Beach.
Nearby Attractions
Gulf Gate residents enjoy nearby access to Sarasota's finest attractions. Located on the shores of Sarasota Bay, Marie Selby Botanical Gardens is a lovely tropical haven that's an ideal spot for researchers, educators, and conservationists to visit.
A division of Bradenton's South Florida Museum, the Parker Manatee Aquarium is the permanent home of Snooty, the world's oldest living manatee. The 50,000-plus-gallon aquarium can house up to three adult manatees. Containing areas of both deep and shallow water, the aquarium's medical pool is designed to provide a natural habitat for feeding.
Entertainment options in the Sarasota area abound for Gulf Gate residents. A favorite theatrical attraction, the Ringling Historic Asolo Theater, was created in 1798 in Italy and transferred to Sarasota in the 1950s. Its U-shaped design and three tiers of boxes reflect a unique style of theater architecture.
Need More Info About The Gulf Gate Area?
The team at Key Solutions Real Estate Group can help you with all of your Sarasota real estate needs.
Send us a message or call us at (941) 894-1255 if you'd like to learn more about Gulf Gate homes for sale near Siesta Key or if you're ready to set up a viewing!
---