Sarasota Home Buyer's Guide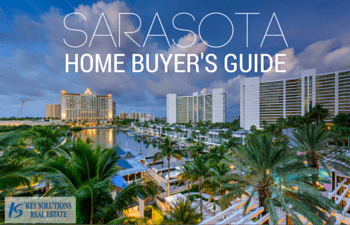 Buying a home in Sarasota or Siesta Key is a very exciting process! Buyer's here can be relocating for any number of reasons, which generally dictates whether they're looking for a great family home, investment property, or a relaxing beachside abode. With so many homes for sale in so many wonderful locations, the process can sometimes be a bit overwhelming.
To help make your Sarasota real estate search as easy and stress-free as possible, we've put together a list of some of the tools and services you can access on our site.
Register for an account to take advantage of our enhanced search functions, bookmark your favorites, and have listings that match your preferences sent straight to your inbox. Ready to start your home search? Browse all of the Sarasota and Siesta Key real estate listings now!
Suggested Articles & Tools For Sarasota & Siesta Key Home Buyers
Buying Real Estate In Siesta Key & Sarasota
Get Pre-Qualified To Buy
The first step to buying a home in Siesta Key and Sarasota is to be pre-qualified for a mortgage. Finding out how much you can afford before shopping can save you time, stress, and reduces the chances of having the home you love bought out from under you. It also can narrow down your listing options early on so that you won't be disappointed to find a home you can't afford.
After you've been pre-qualified to buy a home, it's time to go shopping! Save time by using our Home Finder to let us know your preferences or browse all of the Sarasota and Siesta Key MLS® listings.
If you're specifically after an investment property, learn more about our Property Management Services.
Find The Perfect Neighborhood
Are you looking for an oceanfront condo or a charming house with a yard? Are you okay with restrictions on what you can do? Do you need to live near schools, shopping, and entertainment? Finding the right neighborhood is almost as important as finding the right house, and asking questions like these ahead of time can help you and your Key Solutions Real Estate agent find just the right listing that's perfect for you. Tell us about what you're looking for, or click below to learn more about each of the different communities in Sarasota and Siesta Key.
Buying Homes With Key Solutions Real Estate
Searching for a new home in the Sarasota area should be fun, not stressful. Once you've found the perfect home and location, it's up to your Key Solutions Real Estate buying agent to negotiate with the seller and finalize the deal. If you're looking to buy your second home, having a local agent on your side who knows the area is going to be incredibly valuable. Helping you buy and sell homes is the foundation of our business, but we also offer extended services like property management as well that can help you make the most out of your vacation or investment home.
No matter what you're needs are, nothing would make the experienced team at Key Solutions Real Estate happier than to help you get the most out of your purchase or sale. Contact us today for more information about Sarasota real estate by sending a message or giving us a call at 941.894.1255.