Top 5 Myths When It Comes To Selling Your Home
Posted by Brian Tresidder on Tuesday, February 3, 2015 at 1:58 PM
By Brian Tresidder / February 3, 2015
Comment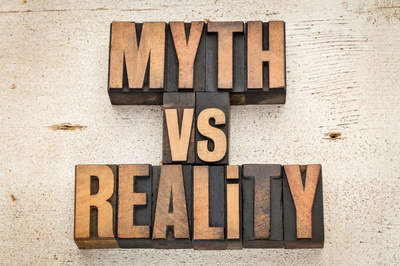 There is plenty of advice that people can receive about buying and selling real estate. However, not all the advice is true. The fact of the matter is that people can lose money and time due to information that is inaccurate. After talking to our Sarasota Realtors®, we've highlighted five myths in real estate to be aware of. Debunking these myths can help potential homebuyers sell their property.
1. Myth: Potential homebuyers can paint over colors they do not like within a home.
Reality: Homebuyers do not want to take the time to paint walls even though they can. One of the best ways to enhance the look of an interior is to paint walls a neutral color. Such a color can help a home look fantastic when people are looking at photographs on the Internet. The fact of the matter is that potential homebuyers get their first impression of a property when they look online. Professionals can paint a 2,000 square-foot home that includes walls and rooms for $3,000 to $6,000. The cost for a homeowner to do that same work is a few hundred dollars. Whatever the case is, a neutral coat of paint can help separate a home from a busy housing market. It can be well worth the investment.
2. Myth: A kitchen and bathroom needs to be redone before a home is sold.
Reality: A home that features a fully remodeled bathroom or kitchen will not yield a huge return when it is sold on the housing market. At the same time, a home can receive a higher price when minor renovations are done. Examples can be new appliances in the kitchen and laundry room or new countertops in the kitchen. Changes like that can draw in a potential buyer. Furthermore, look at the other Sarasota homes for sale in and around your neighborhood and see what the competition is doing.
3. Myth: The exterior of a home is not as important as the interior.
Reality: The exterior of a home can be the deciding factor as to whether a home is sold. After all, buyers can make immediate decisions, and the attractiveness of a home matters. According to Keith Redding, a Key Solutions Real Estate Broker, the majority of buyers looking to purchase Sarasota real estate research available homes online before requesting assistance. Furthermore, potential buyers may not even want to visit a home due to the amount of outdoor items within a yard or a driveway that is in disrepair.
While Keith Redding's feedback can be disconcerting, that does not have to be the case. Changing the appearance of the exterior of a home does not have to be expensive. A great place to begin is to pick up random items in a yard, trim hedges and cut the grass. Adding new numbers on a home, planting flowers or shrubs, painting the front door and installing appropriate lighting can all be done for less than $50.?
4. Myth: Stainless steel appliances and granite counters are no longer trendy.
Reality: A large number of people looking for homes are still very interested in stainless steel appliances and granite countertops. In addition to granite; concrete, marble and quartz countertops are very appealing. According to Sarasota real estate Broker Brian Tresidder, homeowners need to decide whether they are purchasing a home to resell in the near future or whether the home will be kept for years to come. If the home is to be resold, it is good to give a home a specific look that will appeal to the masses, such as top appliances, neutral paints and so forth. People who plan to live in a home for a long time are welcome to do whatever they want. When people choose timeless elements, such as granite counters, cabinets that feature dark wood and appliances of stainless steel, it gives the impression that a room or home was recently remodeled.
5. 
Myth: A home does not need to be staged if it is clean.
Reality: A home that is neat and clean is a great starting point. However, the standard for selling a home has been raised due to people hiring home stage professionals to organize their home. Sweeping floors and cleaning up laundry is not enough. A professional stager can find ways for a home to become attractive to a wide variety of people. They can find ways to highlight the strengths and minimize the weaknesses within a home. For example, a professional may remove window blinds in order to highlight a fantastic view. A twin bed may replace a larger one in order to give a bedroom a bigger feel. Keep in mind that stagers usually remove photos of family and furniture. The reason for this is that it prevents a home from looking like it is full of clutter, and it removes a personalized look. If a homeowner has already moved out of a home, a professional stager may bring in furniture in order to give potential owners a look at how the home can be used.
Homeowners do not have to hire a stager. However, they need to be able to use some the ideas that stagers have in order for a home to be ready to sell. If a home for sale is in an area where staging is popular, an unstaged home will not compare with homes that have been staged. Homes that have been staged in areas that do not highlight staging can have a bigger influence compared to homes that have not been staged.
If you have any questions about buying or selling a home, please "Ask An Expert." Don't hesitate to contact the team at Key Solutions Real Estate Group for assistance, or call #var-phone-number#.