Things To Do Before You Sell Your Sarasota House Or Condo
Posted by Brian Tresidder on Wednesday, January 6, 2016 at 4:39 PM
By Brian Tresidder / January 6, 2016
Comment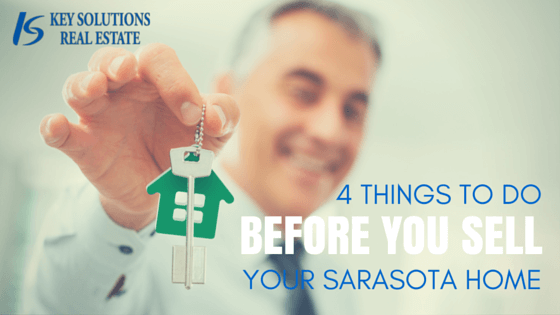 The economy is definitely on an upswing, and people are more financially secure to purchase properties now than they have been in recent years. Mortgage rates are extremely low, so the buyers are out there! Let's help you get your home listed and maximize your selling options with the tips below.
Here are four things to consider if you're thinking about putting your Sarasota property up for sale.
Price Your Home Competitively
When you determine the price, it's best to look at the current market values in your neighborhood. Look at the other prices that houses in the area *sold for. Consider your square footage, the number of rooms and the overall condition of your room. Of course, you will want to take into account that you may have added to your house, which may give it more value. The wisest sellers will choose a price that is the fair market value which will help you sell the house. Remember, if you don't receive offers in the first 30 days, you may have priced it too high. On the other hand, if you see a lot of activity within the first few weeks, you most likely priced it correctly and may soon receive an offer…sometimes even more than one offer!
Ensure Your Listing Is Online
By listing your home online, you'll have a much wider audience. Surveys have shown that people will look online to buy a home. This is true for all ages, generations and income levels. Ideally, you should work with a real estate agent who understands and loves technology. We here at Key Solutions Real Estate Group are armed with the latest real estate technology. When listing online, you will have to make sure that you have professional pictures that will get people interested and excited about your property. With a great description and strategic pictures, your online listing will gather plenty of attention.
Garner More Attention
If you are not seeing the activity of buyers you had hoped for, to gain more attention from potential buyers, you may consider adjusting the price. Or, if there is little interest, you may need to apply some cosmetic refreshers, for example, fresh paint, shampoo or replace main carpeting, and an inviting entry goes a LONG way in the eyes of a buyer. With a minimal investment, you will be amazed at how much interest you can gain and get your property sold faster.
Avoid Surprises
It's a good idea to get your own inspection. By waiting until the last-minute to get one, you may end up with issues you hadn't anticipated, thus delaying a sale. This way, you can choose to take care of any repairs ahead of time. Also make sure you have remedied any liens or taxes that must be paid to close the deal if applicable.
With these tips, you can be ready to sell your house and get the highest price possible! If you're ready to sell your Sarasota home, make sure you list it with a real estate team who knows the local market better than anyone. The Key Solutions Real Estate team would love to help you with your salea call at 941.894.1255 or send them a message online!