Shopping For A Home In Sarasota? It's All About Location
Posted by Brian Tresidder on Friday, July 17, 2020 at 3:41 AM
By Brian Tresidder / July 17, 2020
Comment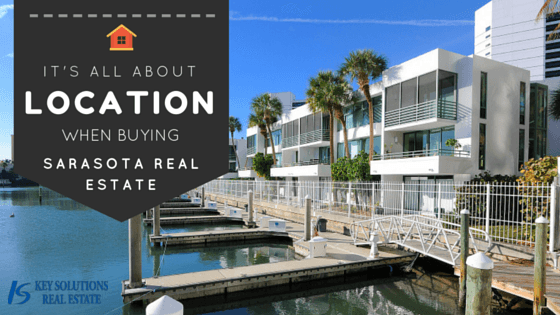 When meeting with clients, one of the things we share with them is that they can make changes to the home, but unless they want to physically move the house, they can do absolutely nothing to change the location.
How To Buy a Great Home in Sarasota at a Lower Price
When it comes to buying residential property, keep in mind that neighborhoods change over time, mostly for the better.
There could be a home that is perfectly situated in the best neighborhood, in the best school district in town. However, if it is on a street that has heavy automobile traffic, or if it is right in front of a shopping mall, that home's value may be less, compared to other homes in the area.
In a good location, should you buy the best or somewhat undesirable house on the block? While there will likely be dozens of buyers lined up to purchase a move-in ready home in a great neighborhood, a home buyer needs to understand that they're paying top market value for the house.
Do Find a Fixer-Upper in a Popular Neighborhood
For a person who is not afraid to do a little work, purchasing a fixer-upper in a good neighborhood is the best purchase to make because once the home has been renovated, the homeowner has most likely ensured a higher value of the property. Owning a house in a good location is something that absolutely no one can take away from you.
On the contrary, a person looking at buying a worn down house in an undesirable neighborhood has every right to feel apprehensive. There are some individuals who want to live in a neighborhood that is in transition, hoping that eventually the neighborhood turns them into the next "it" spot. No one can predict which neighborhood is going to benefit from this type of change. That inherent equity when coupled with the potential that the neighborhood could improve *may result in a great long-term investment.
Don't Buy a Home in a Neighborhood You Don't Love
The riskiest move that a person can make is to purchase the nicest home on an undesirable block or neighborhood. There exists a strong chance that the homeowner will never be able to recoup the equity from their investment even if they live in the home for many years. Buying the best house on the worst block is a good idea for people who are looking for long-term investments and who have experience in investing in real estate.
When it comes to real estate, there are always different factors that affect different markets. Some markets are strong today and will be weak tomorrow. There is no way to give a one size fits all piece of advice that will work well across every market.
The basic principles laid out in the tips above hold true regardless of the neighborhood, block, school district, or city you are purchasing in. Buyers would do well to keep these concepts in mind when considering purchasing real estate as an investment.
For all of your real estate needs, the Key Solutions Real Estate team is here for you! Learn more about the Sarasota real estate market and find the perfect home for your needs with our experienced team. Send us a message or give us a call at 941.894.1255 for more information.