Sarasota Home Buyers: What You Should And Shouldn't Do When Applying For A Mortgage
Posted by Brian Tresidder on Friday, July 17, 2020 at 3:41 AM
By Brian Tresidder / July 17, 2020
Comment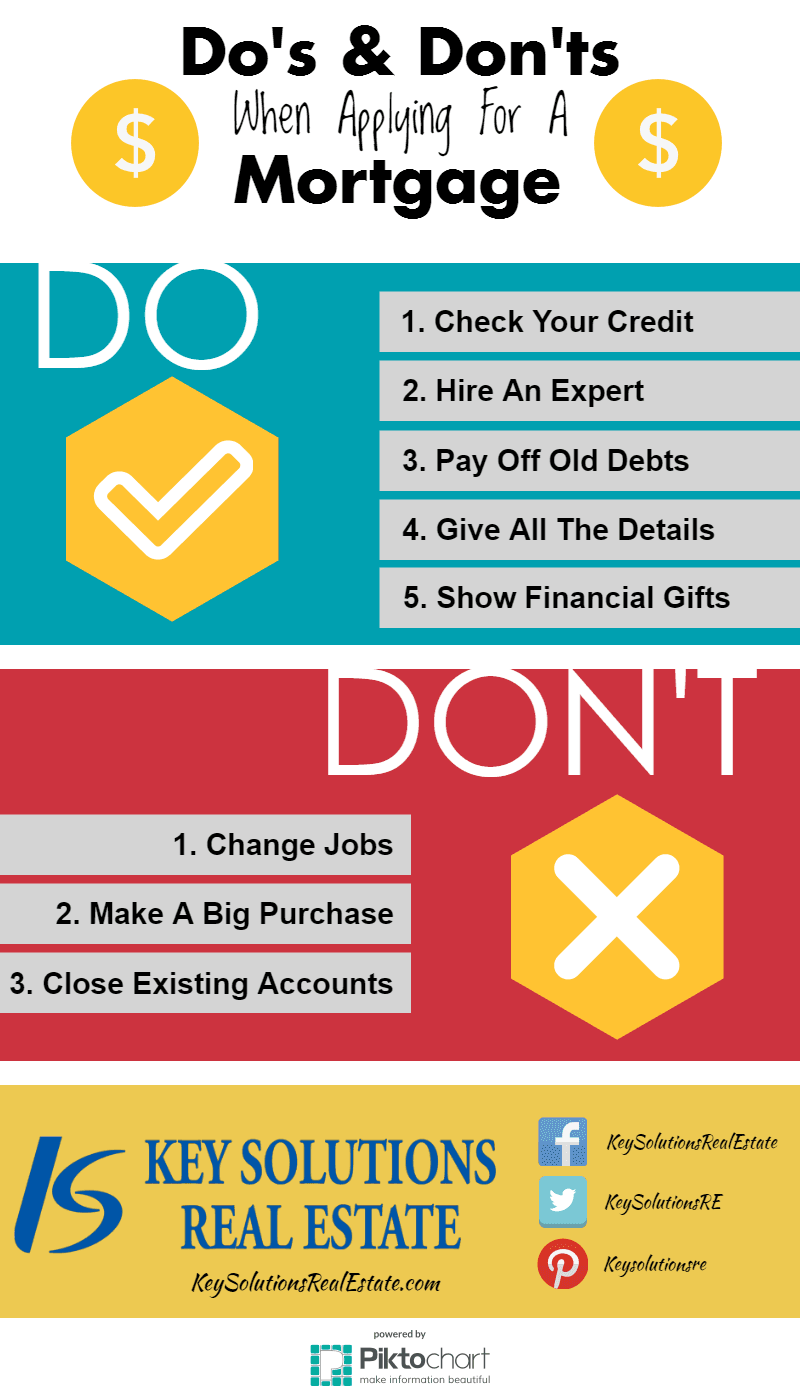 If you're ready to buy a home in Sarasota, then let us be the first to say congratulations! Now that you've put your mind do it, it's time to get your finances in order to make sure that you can make this dream a reality, and the biggest first step is applying for the 'm' word —a mortgage. Whether it's your first home, second home, or another investment property, the basic rules for mortgage approval will still apply. You need to have excellent credibility with your previous and existing lenders, and prove that you can afford to take on the responsibilities of another large loan.
To help highlight this process for you, we've put together a handy infographic to outline what you should do and shouldn't do when applying for a mortgage.
The Do's of Mortgage Approval
Check Your Credit: First and foremost, check your credit score. You can do this for free online or by connecting with a mortgage broker.
Hire An Expert: The sooner you get in touch with a mortgage broker, the better, even if you're not planning on buying a home for weeks, months, or even a few years. It's never too early to take charge of your finances, and if you have not-so-great credit you'll at least have an opportunity to fix it before you start house hunting.
Pay Off Old Debts: credit cards, student loans, car loans, even the financing for the couch, pay it all off. This will indicate to the lenders that you'll have fewer payments to make when you assume the mortgage, and that you can be trusted to pay off a loan. That said, don't close the accounts once they're paid off. If you close it, you could risk losing all of the credit history you've built up with the respective lenders over the years.
Provide As Many Details As Possible: Keep things like pay stubs and other important financial documents on hand and in their original copy. Also bring along any documentation for your current assets, like your car, current home, and boats, just to name a few.
Tell Your Loan Officer Know About Gifts: If you're buying your first home and your parents are set on chipping on some money, make sure that they write a gift letter to show the mortgage lender that the lump sum of money was in fact a gift and not a personal loan.
What You Shouldn't Do When Applying For A Mortgage
Change Jobs: Don't change jobs or be unemployed when applying for a mortgage. If you are going to change jobs, make sure that you let your mortgage expert know before doing so, as they might have suggestions of how to prevent it from hurting your chances of mortgage approval.
Make A Big Purchase: You might want to buy a big house, fancy car, and all the luxuries that money can buy, but wait until after your mortgage has been approved to do so. Any new payments could increase your debt-to-income ratio, which could make you look like a higher-risk to your potential lender.
Close Existing Accounts: Now that you've paid off your credit cards, it's important that you keep the accounts open, even if you don't plan on using them again in the future. This way, you can maintain your open credit and credit score. If you close accounts that you've paid off, you could erase all that great history you've had with the lender. If you have any remaining debt, it could end up accounting for more than your available credit, which can also be detrimental to your credit score.
If you're looking to buy a home in Sarasota, having a good lender in your corner is almost as important as having a good real estate agent. Luckily, the Key Solutions Team can help with both! We'd be happy to recommend our preferred lenders to you that we've grown to trust over the years. Send us a message or give us a call at 941.894.1255 for more information. To find out more about the homebuying process, check out our Buyer's Guide or other blog posts below!