Looking for a Beachfront Bargain? Here's How to Find One in Siesta Key, FL
Posted by RaveisFlorida.com Support on Friday, September 1, 2017 at 3:39 PM
By RaveisFlorida.com Support / September 1, 2017
Comment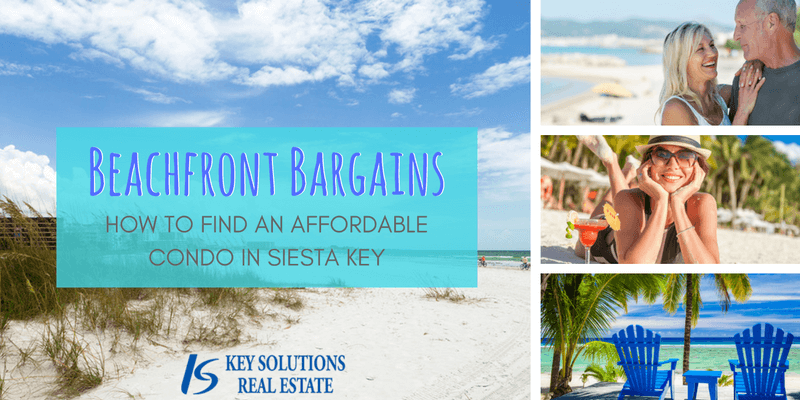 Beachfront properties are a desirable commodity that much is for sure. As with most real estate options in high demand, the price for a waterfront property can typically range from $400,000 to a million, depending on the size and location. With those kinds of prices, it's easy to see why waterfront properties are so exclusive.
However, what if you could snag a beachfront bargain at a much lower cost than typical Siesta Key properties? Here are some tips and tricks to get the most bang for your buck when searching for a beachfront property in Siesta Key, FL.
Look for the Unexpected
Most buyers looking for waterfront properties in Siesta Key are looking for condos or houses along the coast of the Gulf of Mexico. These are the properties that go for high prices. Many people, however, don't consider the other options. For a more reasonable price, you could easily live across the street from these properties or even take your search to neighboring communities such as White Sands Ville or La Siesta and Bay Oaks. These areas offer the same gorgeous scenery at a much lower price.
Consider the Homeowners Association
Many buyers look into getting a beachfront property to rent out during the off-season. This is a great idea and will help significantly lower your out-of-pocket expenses. However, when buying a condo or community home in the area, you need to consider the homeowners association. Most HOA have set rules about renting your property during the off-season. Some of these rules consist of three-month minimums, which are often difficult to find. Before taking advantage of a great deal, take a look at the HOA rules beforehand, to make sure you are ready to comply.
Compare the Size to the Price
Looking at beachfront properties near the Gulf, you will notice an overwhelming trend. The size of these homes seems disproportionate to the cost. It's common to see expensive beachfront properties with a 600 square-foot floor plan. Getting away from the Gulf and taking advantage of less expensive properties just south of Midnight Pass Road will also give you more square footage and more space in your new home or condo.
Whether you're looking for an investment property or a place on the beach to enjoy the summer, the real estate experts at Key Solutions Real Estate can help. Call us today at 941.894.1255 for help finding a bargain beachfront property in Siesta Key, FL.