Kitchen Remodeling - Even The Kitchen Sink?
Posted by RaveisFlorida.com Support on Friday, November 1, 2013 at 10:42 AM
By RaveisFlorida.com Support / November 1, 2013
Comment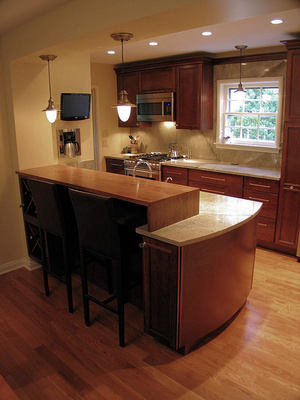 That old kitchen seems to have been placed as an after-thought by the home builder. It is cramped for working space, there isn't enough storage in the cabinets, and it is just not an appealing place to spend your time. This holds true in our town, one of the biggest complaints about the Sarasota homes for sale are the kitchen setups. This is even more magnafied in our Siesta Key condos that were built in the 1960's and 1970's. There are some great improvement ideas out there, but many of those do not come cheap! If you are like most homeowners you will be looking to relocate within the next several years, so how do you scope out your kitchen remodeling plan without pricing your home out of the local market trying to recover that cost later?
Not Going To Do That!
Save some money now by avoiding high-end appliances that prospective buyers will not value at sale time. Kitchen design experts who represent appliance retailers may try to steer you toward those units. Also think long and hard about cabinet make and material, they are all functional but the price varies dramatically. Finally, be cautious regarding improvements that include structural modification to the home; while this is often necessary to make the use of the kitchen more efficient, you may encounter concerns regarding structural integrity that require input from experts in addition to permitting costs as you deal with local authorities.
Yeah, We Will Do This!
Do consider safety, electrical wiring in older homes often does not meet current building code and is typically insufficient for the current demands of appliances. Wiring and circuit upgrades are well worth the time and expense of a qualified electrician. While you are at it, plan and execute an effective lighting scheme for your kitchen. You'll need assistance to accomplish this but a well illuminated kitchen will pay dividends at sale time. Also plan for the smooth flow of traffic in and through the kitchen area. Consider whether an island will help or hinder movement. Look to create an alcove for a small table so that the cook is not isolated from social intercourse during gatherings.
A hospitable kitchen is the focal point for life in a home. Home sales are often made or lost on the perceived functionality and friendliness of the kitchen area. Strategic improvements can be economically planned to accomplish both of these objectives.
If you would like to see any Sarasota homes for sale or any of our Siesta Key condos we'd love to show you. Please contact Key Solutions Real Estate Group, or call #var-phone-number#.