Get the Scoop on 2014 Financial Trends
Posted by RaveisFlorida.com Support on Friday, July 17, 2020 at 3:45 AM
By RaveisFlorida.com Support / July 17, 2020
Comment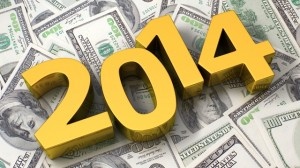 Financial Trends for 2014: What's In and What's Out
Just which financial and lifestyle trends will gain favor in 2014? And which ones will diminish in importance? Let's discuss what might be "in" for 2014, versus what might fall into disfavor.
Smaller Lenders vs. Big Banks
In 2014, smaller mortgage lenders will continue to gain traction at the expense of the bigger banks. The smaller lenders already enjoy about 60 percent of the market, and that percentage is likely to advance further this year. Big banks, in many instances, are continuing a policy of retrenchment vis-a-vis residential mortgage lending. At the same time, a variety of other players, are increasingly competing for business. The end result for consumers could very well be enhanced customer service. More flexible loan configurations and quicker approvals will reflect the nimble nature of the smaller players. The competitiveness of today's mortgage marketplace is illustrated by the Zillow Mortgage Marketplace, where an average of more than 30 loan quotes are provided per loan request. With many upstart lenders entering the fray, it is important for prospective buyers to check out the reviews and ratings of any lenders that they might consider doing business with.
Mobile Wallets vs. Regular Ones
The analytics firm Gartner reports that worldwide mobile payment transactions rose a prodigious 44% in 2013, year-over-year, reaching a total in excess of $235 billion. Gartner projects that this dramatic trend toward mobile payments will continue in 2014, as the total rises to an estimated $325 billion. Starbucks garnered attention for its early acceptance of mobile payments, and it now claims 11% of all purchases are made using its mobile app. Clearly, mobile wallets are being used for far more than lattes! Purchases by individuals from businesses continue be paid for via mobile payment options. However, person-to-person payments are expanding exponentially as well. Consider the early success of Popmoney, which allows the sending or receiving of money to just about anyone. Parents can now pay the babysitter in this way, and money can be sent to that college student that runs low on cash with greater ease than ever before.
Freelancers vs. Full-time Workers
Independent contractors, consultants and freelancers now comprise about one-third of the American workforce. This trend accelerated following the economic recession of 2008-2009 as companies searched for ways to cut labor costs and reduce expenditures for costly benefits. Now, many enterprises make it a part of their business strategy to scour social networks for the specialized expertise that they need. Such freelancers are then often used only on a project-by-project basis. Overall, the number of part-time workers, which has steadily increased since 2009, is expected to exceed the volume of full-time workers in as little as five years.
Semi-retirement vs. Retirement
A recent AIG retirement study highlights a growing tendency for retirees to continue to work part-time. In many instances, this occurs out of necessity as early retirements are forced onto workers or pensions are reduced. Information provided by the University of Michigan Retirement Research Center highlights this trend. Among 60-62 year-olds, the number that are classified as "partially retired" has risen from close to zero to 15%. In 1960, about 5-10% of 65-67 year-olds were employed part-time. Today, more than 20% are.
Staying Put vs. Relocating In Retirement
A recent MetLife survey suggests today's aging baby boomers are more likely than previous generations to remain in their homes rather than to relocate for retirement. This trend is likely to stimulate remodeling and renovation businesses, as many such individuals pour dollars into their established homesteads rather than heading to distant, traditional retirement havens. Included in these home improvements will be elements that improve ease of use as aging comtinues. Higher toilets and curbless showers would be just two examples.It is also evident that this burgeoning population of pending retirees will want to be very active in retirement. Culture and the arts in their respective communities should benefit from this trend. Those that promote various health and wellness endeavors will also be the beneficiaries, from health clubs to golf clubs. By "staying put," these older baby boomers will better retain the local friendships and family contacts built over the years, and this may benefit everyone involved.
These 2014 trends will represent substantial lifestyle changes for a broad cross-section of Americans. Although certain new trends may have downsides, the potential upside is noteworthy. Mobile payments will be more efficient and they will save time. Freelancers will enjoy freedoms that were not possible in the 9-to-5 world. Retirees that remain in their communities will strengthen the social fabric as relationships remain more intact. And finally, the competitive environment that will be fostered by smaller, more nimble lenders will likely benefit prospective home buyers across the country.
---
If you have any questions about buying or selling a home, please "Ask An Expert." Don't hesitate to contact the team at Key Solutions Real Estate Group for assistance, or call (941) 894-1255.