Curb Appeal Gets You More For Your Home
Posted by Brian Tresidder on Thursday, July 3, 2014 at 1:11 PM
By Brian Tresidder / July 3, 2014
Comment
Landscaping a Huge Factor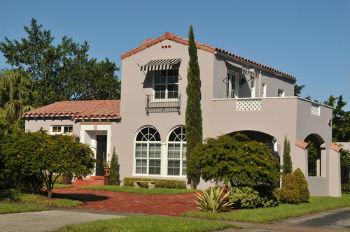 Florida's gulf coast is one of the loveliest areas in Florida. People come here to retire, look for jobs and enjoy the area's many regional amenities. Homeowners who live in the Sarasota, Florida region know they must keep their homes in good condition for many reasons. One of the keys to keeping any home's curb appeal is the use of excellent landscaping. Landscaping should blend in well with the surrounding area and use native plants wherever possible.
When landscaping is not given proper attention, problems may come up. A friend of mine who runs a business that specializes in providing landscaping services for homeowners was kind enough to speak with me about the importance of curb appeal and some of the best ways to get it.
Why Landscaping is Important
So you may be wondering why is landscaping so important for your home? Think of your landscaping as the final accent to your entire home. In essence curb appeal is about bringing your interior sense of design into your front yard. It's about helping maintain your property well. For example, plants that have deep roots will help protect your home from soil erosion and run-off water that can damage the foundation of your house. A well-kept lawn can even cut down on mulching costs and keep potentially dangerous weeds away from your home.
Homeowners in the gulf coast area may have some special concerns about effective landscaping. Such concerns are understandable. Given the hot Florida climate, it is best to make sure your home periodically has fresh compost and that any plantings you have are in the best possible shape. Consider planting new ones if the old ones aren't adapting well.
Curb Appeal Key When Selling Your Home
Curb appeal is essential to help maintain your home. It is also vitally important if you are trying to sell your home. Studies show that many home buyers decide whether or not to even consider looking inside a home based on the home's exterior. A seller should make sure the exterior of their home is in the best shape possible. If you want to sell your home, you must think of your home not as the place you live, but as a commodity that needs to sell for as much money as possible. That's why a home's curb appeal is of huge importance. It's the first thing any potential buyer will see. A small investment in the right landscaping can easily add thousands of dollars to your home's market value.
Landscaping and creating curb appeal also have other benefits. Effective landscaping can turn even the dullest areas into a visual delight. Well thought-out landscaping can turn a modest home into one that is elegant and upscale. The right landscaping can also create outdoor spaces that are warm and inviting. Curb appeal should be about creating an entire look for your home, including the backyard.
Landscaping Pays Off
The American Society of Landscape Architects (ASLA) recommends that homeowners put roughly 10% of the home's value into landscaping. An investment in your property's appearance can pay off by adding up to a 20% premium to your home's value.
Before deciding on a landscaping project, there are several important questions you should ask yourself. Possibly the most important is whether or not to do it yourself or to hire a professional for assistance. If you have a background in design, it is possible to create an effective curb appeal plan. If you do not, it may be better to consult with a professional. For a small fee, many will work with your entire home to create a unified look that takes advantage of local conditions and works well with other homes in your area.
There are also other questions you will want to think about. You should consider the size of the property. Sometimes you may only wish to redo a small space. At other times, a total reorganization is in order. You may also want to ask yourself if you understand how plants work together to create a coherent look as well as if you have the ability to understand technical aspects of landscaping such as how to create proper drainage. You should also think about exactly what kind of plants and trees that you like. You may find certain colors more appealing than others. You may also wish to think about the kind of time you have to devote to maintaining the landscaping. A busy professional may not have enough time to make sure her landscaping is in good working order while someone who is retired may have more time to pay such close attention to details.
Be aware that maintaining your plantings can take time. Proper research is vital. Look through local area libraries and find out all you can about flowers, trees, shrubs and plantings that work well in the gulf coast region. You don't want to plant something only to find it has wilted because it was not suited to the region. Many websites offer assistance to amateur gardeners. Consider attending area home shows to get ideas and inspiration. Speak with other members of your community. If a neighbor has a front yard you particularly admire, ask them how them accomplished the effects that you like so much. Many will delighted to speak with you about their techniques.
Another great place to get ideas for landscaping is at local area hardware and plant stores. Many stores have examples of completed landscaping projects that you can use for your own home. While redoing an entire home may be too much, a small landscaping project such as planting a bed of annuals is often quite easy even if you have never done any gardening before.
Hire a Contractor for Large Projects
For larger projects, it is best to hire someone with a background in this field. Ideally this person will also have a full understanding of how to work well with the gulf coast climate. It is also important to make sure the person provides plantings that will not potentially damage your home. Proper drainage for all your landscaping is highly important.
In all instances, the choice is yours. Good landscaping choices provide any home with a tremendous sense of curb appeal. Well thought out plantings can make your home look more beautiful and inviting. A sensible curb appeal plan can also have other enormous benefits as well. It can increase the value of your home, make it easier to sell in a down market and help you get the most use possible out of your home's lot. Think about it carefully and you will have the results the you want and truly need.