8 Steps to Prepare for That Big Move
Posted by RaveisFlorida.com Support on Thursday, July 3, 2014 at 4:07 PM
By RaveisFlorida.com Support / July 3, 2014
Comment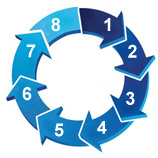 When making a big move, prepare wisely! The last thing you need is something that delays the process or cause problems own the road. Of course, since most of us are not seasoned professional movers, consider following a basic guideline on how to prepare for a move. Here are eight tips to prepare for the big move.


1. De-clutter the house! Before doing anything, go room by room and remove any clutter. This is a wise step to take as it will save time and money during the move. While taking this step, make three piles-one for donations, one for sale, and one to throw away. Remember, with this proactive approach, the subsequent steps will go smoothly.

2. Think about getting a storage unit! Now, thrifty people might hate paying for a storage unit, but this is a great way to get items organized and out of the house before the move. In the end, when moving, one will have an easier time picking up items from a clean storage unit.

3. Read expiration dates! If food in the refrigerator or pantry is old- get rid of it. If not- use as much up as possible before moving day.

4. Go room by Room! While tempting to throw everything haphazardly in boxes, it is much more efficient to go room by room and pack. With each box marked by room when arriving to the new home, there will not be confusion when looking for personal or household items.

5. Make a place for important things! Most people have important items and keepsakes they do not want to lose. Things like passports, credit cards and financial paperwork while not expensive to replace, is a time-consuming process. The smart mover should consider putting important items in a small box on the front seat of the car so nothing is lost or damaged.

6. Ask friends or family to help with children! Although you might want to include little ones in the move, in the long run, they may get tired or restless and frustrated with the process.

7. Cancel utility services! This can usually be scheduled well in advance. To avoid problems, call or go online to the electric and cable companies and anyone else who provides services. No one wants to pay a water bill for a place they've been gone from for months.

8. Move small items first! Although it is tempting for to take out the large furniture, it is actually better to remove small items in the beginning. It will be easier to move large furniture and boxes from rooms that are not over-crowded.
Moving is a big job, whether it's cross country or across the street. Luckily, with these eight tips, the move will go smoothly and the experience will be a good one!
---
If you have any questions about buying or selling a Sarasota home, please "Ask An Expert." Don't hesitate to contact the team at Key Solutions Real Estate Group for assistance, or call #var-phone-number#.