7 Home Improvements To Help Sell Your Home
Posted by Brian Tresidder on Saturday, May 20, 2023 at 3:44 AM
By Brian Tresidder / May 20, 2023
Comment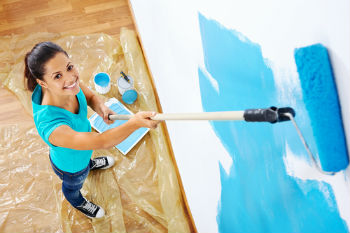 Once you decide to sell your house, invest a little time and money in a quick makeover. Here's a list of easy and inexpensive do-it-yourself improvements that will make your home more attractive to buyers. Each of these quick fixes makes the house look less like your old, lived-in domicile and more like a new house waiting for a new owner.
1. Clean the House Top to Bottom
A new house is spotless; an old house is full of the dirt, smudges and scuffs that lived-in homes accumulate. No one wants to inherit a record of your kids' heights, even if the wall they're marked on is in the closet. Wipe them away. Sweep away the spider webs, wash the windows inside and out, clean every surface and pay special attention to corners. Your house will look like new, and that's the point.
2. Refresh the Paint With Neutral Colors
You like the purple walls in your bedroom because you know no one else has them, right? Congratulations. You understand that no one wants your purple walls. When you are determined to sell your house, give it a fresh coat of paint. Choose light, neutral colors to make the house look expansive and fresh. It's like giving buyers a blank slate on which to project their own favorite colors. Paint is an inexpensive home improvement that more than pays for itself.
3. Let in the Light
Washing the windows is already on the list. Take down any dark or heavy drapes, or at least open them. Put up sheer curtains that filter the light. Position mirrors to reflect the sun from the nearest window. Daylight makes the rooms look bigger and cheerier. Make sure all the light fixtures have bulbs. Replace any dim or broken bulbs. Remove or replace any nonworking lamps.
4. Get Rid of Clutter, Inside and Out
The objects artfully arranged on your shelves, the books stacked high, the sports equipment piled in the entryway make your house feel like home. It's time to say goodbye to all that. Pack up your collectibles and put them in storage. Leave empty space in closets and on storage shelves. By doing so, you invite in the next owner.
Rent a storage space in town, if necessary. You can continue to use it until you're settled into your new place. Pack up any unnecessary furniture. All you can do to open up the space of the rooms is worth doing now.
Go outside and take a good look around. Pick up all your possessions and stash them. Rake up any lawn debris. Trim the hedges. Create an uncluttered, appealing landscape that will help sell the house.
5. Update the Front Entrance
First impressions count, so make the front door look especially inviting. Give it a new coat of paint. Put out a fresh new welcome mat. Arrange healthy potted plants along the porch. Make sure the outside light is working and is in good shape. A light fixture can be inexpensive to replace.
Remove clutter and debris from the front yard and driveway. Keep the walkway to the door clear and weed-free. Buyers will be looking for the house number when they drive up. Make sure yours is prominent and attractive.
6. Improve the Bathroom
Small home improvements on the bathroom and kitchen are the most likely to pay for themselves at the sale of the house. Add an attractive new shower curtain and an area rug. Replace a broken or old toilet seat with an inexpensive new one. Once the bathroom is clean and sparkling and you've painted the walls, it'll add its appeal to the overall impression the house makes.
7. Restore the Floors
Floors wear unevenly, depending on traffic patterns. Look for areas of most wear on your floors. Check at your local home improvement outlets for products that will restore the shine. Choose a water-based product for ease of use and environmental safety.
All these fixes are easy to do. Most can be accomplished in a few hours. All of them are inexpensive. The end result is a house that looks clean, fresh and as new as possible. That's what attracts buyers.