5 Myths About Home Buying
Posted by Brian Tresidder on Wednesday, May 10, 2023 at 3:44 AM
By Brian Tresidder / May 10, 2023
Comment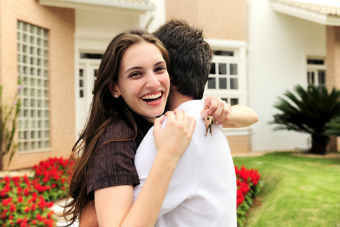 Whether you're buying your first home or you're already experienced buying homes in the real estate realm, the process of purchasing a home can be complicated. One of the most challenging factors is the many home-buying myths that are often repeated by well-meaning friends and relatives. Read on to get the real facts behind five myths about the home-buying process. Having the right information can not only save your sanity as you enter into this process, it can also potentially save you thousands of dollars.
1. A Bigger Down Payment Is Better
After the housing bubble burst in 2007, the zero down loan programs that were once common all but disappeared. Since then, popular wisdom suggests you shouldn't buy a home unless you have saved a 20% down payment. While it's true that putting down at least 20% makes it easier to be approved for a mortgage, this isn't the best course of action for all home buyers. In some cases, buyers who put down as little as 3.5% through the Federal Housing Administration can get a better interest rate because their mortgages are insured. In addition, it often makes better financial sense to buy when housing prices are low, even if you haven't saved 20%. In addition, loan and grant programs exist that can help cover a down payment, particularly for first time home buyers. Check what programs you might qualify for in your state before embarking on the home-buying process.
2. You Must Have Perfect Credit to Buy a Home
While a higher credit score gets you a better interest rate, it's still possible to buy if you have a few marks on your record. Credit scores, which are reported by three bureaus, range from the low 300s to the mid 800s. If you have a score higher than 600, it's possible to get home financing, though the terms might not be ideal. Your first step in the buying process should be to find out where your score falls and then take steps to raise it if necessary, such as paying down credit cards and ensuring that all payments are made on time. A Federal Housing Authority loan typically allows a lower credit score, with mortgages available for buyers who have a 580 score and above.
3. You Should Only Get A Fixed-Rate Mortgage
Another myth that came out of the late 2000s housing crisis, conventional wisdom suggests you should absolutely avoid adjustable rate mortgages (ARMs). While fixed-rate mortgages have a rate that stays the same for the life of the loan, ARM loans after a certain period of time based on a variety of factors. While the thought of a changing interest rate can be scary, most Americans stay in one home for an average of only seven years. If that might be the case for you, you stand to save thousands of dollars by opting for an adjustable rate mortgage. Make sure to consider all the options before choosing a mortgage loan, and do the math to determine what makes sense for your family's budget and finances.
4. You Should Always Choose The Lender With The Lowest Interest Rate
While low rates are certainly one of the factors you should consider when choosing a mortgage lender, this shouldn't be your only criterion. Consider the reputation of the bank you're working with, the reliability of the lender, and their ability to interface directly with your real estate agent. In a competitive market, a dependable lender can mean the difference between getting the home of your dreams or getting beaten out by another buyer whose lender worked more quickly for approval. Your real estate agent can recommend a preferred lender; recommendations from family and friends are also valuable, particularly if they bought a home in your area.
5. You Only Need Enough Cash On Hand For A Down Payment
While a down payment can be a huge chunk of the funds you need to save before purchasing a new home, the fact is there are several other out-of-pocket costs you need to be prepared for as a buyer. This is one reason why you may opt for a smaller down payment loan, even if you have enough saved to put 20%. Closing costs typically range from 3 to 5% of the total purchase price of the home. As part of the approval process, lenders also want to make sure that you have at least three months of expenses saved before granting you a loan; this number should include the amount of your new mortgage payment. You should take all these costs into account when determining how much home you can afford to purchase so that you're not surprised when you're well into the process.
Although the home buying process can be daunting, especially when you consider the misinformation that abounds, a good real estate agent and/or real estate lawyer can help you cut through the red tape and make the best choices for your family's financial situation. By doing your homework, you can save money and find a home that you'll love for a lifetime.