4 Must-Haves In A Siesta Key Investment Property
Posted by RaveisFlorida.com Support on Friday, July 17, 2020 at 3:40 AM
By RaveisFlorida.com Support / July 17, 2020
Comment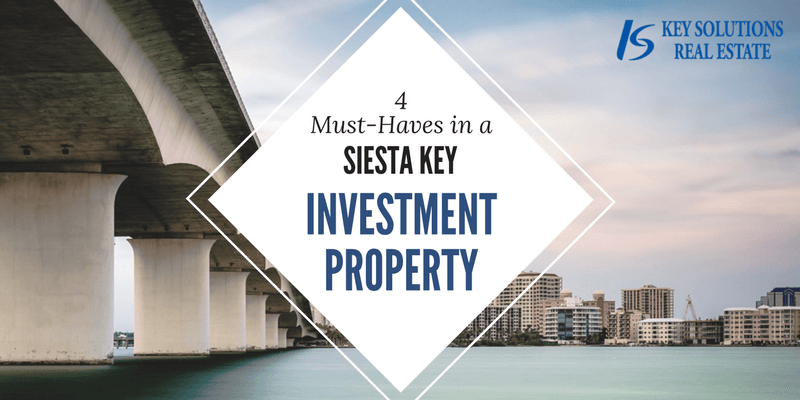 Siesta Key is one of Florida's hottest markets for investment properties and it's no wonder why. Between the beautiful beaches, world-class golf, and boutique shops, the area has a thriving tourism sector that dominates the economy of this quaint coastal town. But it's important to note that not all investment properties are the same.
Here's what to look for if you're on the hunt for a great rental property in Siesta Key:
It's all about location.
When people are looking for a place to rent in Siesta Key, they're usually after one of two things: walking distance to the beach or somewhere with boat storage and access. Even condos located just a block away can have a harder attracting renters than those located on the beach, so location is extremely important.
Watch out for property tax, condo fees, and utilities.
Every condo is going to have annual property taxes, condo fees, and utility costs that can hurt your bottom line if you're not careful. When hunting for a beachfront bargain, it's important to keep an eye on the purchase price as well as these annual costs to really make sure you're really going to come out ahead. A plethora of desirable amenities.
Most of the people who are looking for a place to stay during their vacation are looking for either the greatest value or the most amenities. But a unit with a bit of both is even better. Most of the condo communities on Siesta Key have a few standard features, like a swimming pool, spa, access to the beach, and tennis courts. These are great amenities to offer your renters and could be just the thing to elevate your property over another.
A decent track record from previous renters.
From an outsider's perspective, a unit could be listed for a good price, low fees, and have decent amenities, but if the building has a poor track record among its previous guests, it might be better to look elsewhere. This is especially the case if you're planning to rent your condo through the building's property management team, where their reputation with renters could impact the ability keep your unit rented.
A good bottom line.
At the end of the day, a good investment property should be helping you get ahead. If you're condo is costing more money that it's bringing in, then it might be time to try a different strategy. Before you buy in an area, learn as much as you can from other condo owners and have a good Siesta Key Realtor on your side to help you make an informed decision.
Want to learn more about investing in Siesta Key condos or our property management services? Get in touch with the Siesta Key real estate experts at Key Solutions Real Estate today! Send them a message or give them a call at 941.894.1255.