3 Tips For Baby Boomers Looking To Buy A Sarasota Home
Posted by RaveisFlorida.com Support on Friday, July 17, 2020 at 3:43 AM
By RaveisFlorida.com Support / July 17, 2020
Comment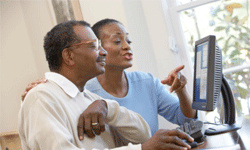 Many Baby Boomers are finding themselves at a point in their lives when they are ready to move into a new home. Perhaps they are looking for a smaller home that is easier to care for, or they may want to move to another area for retirement. Whatever the reason for the upcoming move, Baby Boomers need to take a fresh look at how homes are bought and sold.
In many cases, Baby Boomers have lived in the same home for over 20 years. Things have drastically changed in how homes are bought and sold since the last time they went home shopping. Understanding these new techniques and what they should expect when looking for a home will make their next home purchase a much easier transaction.
Begin Your Search At Home
In the past, home buying began with going to a local real estate office and searching through current listings. Now, buyers are more apt to use the Internet and different apps to help them find their next home. Sitting in their living room, buyers can search local listings, take virtual tours of homes they are interested in, and access enormous amounts of data about the real estate market in the area they are interested. This access helps buyers become more informed before physically viewing a house, and it cuts down on search time.
Finding A Good Local Agent
Once you have a feel for the homes you are interested in from your Internet search, it is important to find a good local real estate agent to help you with the buying process. Our agents have much more to offer now than just a book of available listings. Key Solutions agents are armed with important knowledge about the current Sarasota real estate market, selling prices, and comparable sales. They are also very knowledgeable about permit issues and if there may be any problems with a home you are interested in from an agent's perspective.
Find a Sarasota real estate agent now, or call us at (941)894-1255 to get setup with a REALTOR® that specializes in the area you are interested in.
Negotiations And Paperwork May Not Require Face-to-Face Meetings
Many agents now work using the Internet as their strongest tool. They will correspond with you via the web, and paperwork and other negotiations can be conducted online. It is not unusual anymore for an offer to be drawn up, sent by email for approval by the buyer, sent back to the agent, forwarded to the seller, and then accepted all online. The days of running down to the real estate agents office to sign paperwork or sending faxes are gone.

Most of the transaction, including signing the purchase agreement, now happens in this manner. Of course, if you feel more comfortable to handle this type of paperwork in person instead of online, your agent will accommodate you. However, be prepared for the buying process to be extended if you opt for the old style of completing the transaction.
Understanding how the new buying process works in the real estate industry will help make the buying process much easier. In fact, once you are finished with the buying process, you will wish that buying a home had always been this easy.