Sheri and Bob Ruiz
Realtor®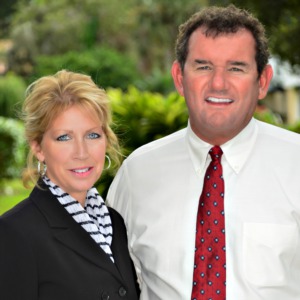 Born and raised in New York City and educated in VA, Bob's combination of competitiveness and congeniality uniquely suits him to a profession in real estate. Recruited from college for a coveted CPA position with Arthur Anderson, Bob subsequently attained the position of Chief Financial Officer at a public technology company, working closely with the federal government in Washington, DC.
His proximity to the coast led to his love of life at the beach. An avid beach volleyball player and fisherman, Bob undertook a two year search for his "little slice of heaven" in Florida. After sampling life in numerous coastal communities he determined that Siesta Key was perfect. The climate, the beach, the amenities, and the people make this his ideal place to live.
His love for this community, combined with his experience as a successful advisor and businessman led to his current career in real estate. A seasoned negotiator, Bob brings knowledge, determination, and trustworthiness to all of his real estate dealings. Bob's favorite aspects of his job are the search for the right property at the right price, the negotiation, and the advising of friends, associates, and clients on a variety of real estate issues, particularly as they relate to their overall financial goals.
Sheri's love of architecture and design complement her education and experience in marketing, finance and economics to make her a discriminating and skillful realtor. An excellent listener and strong communicator, she is highly effective in helping clients identify their specific wants and needs and translating them to finding the perfect property. Sheri gives her clients the attention, service, and guidance necessary to make their real estate transaction both enjoyable and successful. She is committed to providing the best services with the highest level of integrity and professionalism to build a lasting relationship with each and every person she serves.
A native of Nashville, TN, Sheri graduated from Vanderbilt University with degrees in Business Administration and Economics. For most of her career, Sheri served as an executive director and fundraiser in the non-profit sector focusing on both public and private education. She has lived and worked in Washington, DC, Westchester County, NY, and Asheville, NC. Having had the good fortune to vacation with her family in Sarasota since early childhood, Sheri has been a resident of Siesta Key for nearly twenty years.
Pending 1253 Dockside PLACE #111
Sarasota, FL 34242
Pending 9397 Midnight Pass Rd #901
Sarasota, FL 34242