Shana Hamel
MBA, C2EX, RSPS, SFR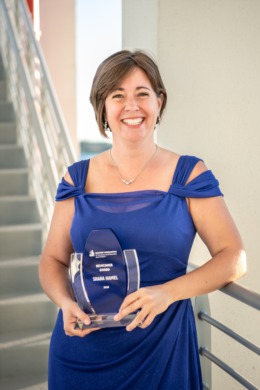 A Sarasota and Manatee County resident for more than 30 years, Shana obtained her real estate license in 2018 and has been active in the local community as a volunteer, educator, and small business owner. In addition to being an award winning Realtor®, she is a licensed Mortgage Loan Originator.
Shana uses her experiences in real estate, property management, and finance, as well as her MBA and Life Coaching Certification, to continue to build long-lasting relationships and help buyers and sellers achieve their goals. Integrity is the cornerstone of Shana's business. Her education and experience enable her to be an extremely resourceful asset to any real estate transaction.
Shana has earned her Resort and Second-Home Property Specialist Certification (RSPS), Short Sales & Foreclosure Resource Certifications (SFR), and she is C2EX endorsed. She is also a member of the Global Business Council (GBC), and the Young Professionals Network (YPN).
In addition, Shana was the Chair of the Scholarship Committee (2020). During her time on the committee, the Scholarship Committee, with the assistance of YPN and CREA, helped to raise over $40,000 in scholarship funds.
When you choose Shana, you have the advantage of working with a true professional who knows the community inside and out. Shana is passionate about helping others and her community service is quite impressive. She was named "Community Hero" for Sarasota and Manatee County in 1997 and has continued to stay involved ever since. She is a mentor for the Education Foundation where she mentors and speaks to teens about the importance of goal-setting and how to secure a financially sound future. She is also a Guardian Ad Litem, and this year is Vice Chair of the RASM Community Outreach Committee.
When not working, Shana can be found anywhere by the water. Shana recently spearheaded RASM's participation in the 2020 Florida REALTORS Waterway Clean-Up.  She's has a love of sailing, kayaking, paddleboarding or simply walking along the water's edge. She believes she truly does live in paradise and would welcome the opportunity to help you buy or sell your piece of paradise too.
Testimonials
We chose Shana as a real estate agent after my husband stopped to chat for a few minutes, just to see how business was at Key Solutions. He was so impressed he told me that Shana was going to get a list together for us to view. I was hesitant until I met Shana a few days later. She was friendly
and personable from the moment I met her. She eased my mind and after the first meeting I knew we chose the right person for our house hunting. After Shana left us off at our car, I said we made the right decision for a real estate agent. I can't say enough about how Shana helped us with our journey, but her best quality was her honesty. When we were hesitant about a property, she pointed things out, good, bad and otherwise. I'm sure other agents wouldn't do that, because they want to make a sale. The other thing is Shana always said go home and think about the property. That really saved us from making the wrong choice that we would have regretted later. I think we were both nervous about taking a leap to buy a second home. We hadn't had a mortgage in years and we needed to be sure Sarasota was the right area for us. Shana took us through many properties. Again pointing out what we may like and what we may not. She made us look at what we really wanted in a property and talked us through the doubt in our minds. Again just making us think about the property and not pushing us to jump into anything we weren't ready for was a huge comfort to both of us. She even asked if we were really ready to buy a property, which we had to be sure ourselves. Most agent would have made us take the leap without thinking about it. That was a comfort in itself. I had gone and looked at a property before I had met Shana and the man was nice but very unsure of himself. He contacted me through e-mail a few times, but just gave up after a few e-mails. I think we needed someone with the confidence to lead us to the perfect property. I don't think Shana would have given up so easy and I'm glad she didn't. We had the best person for the job. Back home we have always worked with a family friend, who worked hard for us with each sale. Which you would expect from a friend. I feel that Shana is a great real estate agent and a great friend. She is a friend who goes above and beyond her job. I would highly recommend Shana to anyone looking for property, or selling a property. Shana knows the area and points out different aspects of the areas, which was huge for us out of town clients. We have already bragged about Shana to everyone we talk to. If anyone needs a real estate agent don't hesitate to call Shana. You will be glad you made the call.
Patrick and Michele M.
When my husband and I decided to move to Florida after living many years in Europe we liked Sarasota but were not so familiar with various areas and our time was limited to choose a home. We were both very pleased to have met Shana who has lived in the area for many years and was able to guide us
in our selection. There was an immediate understanding about the type home we were looking to purchase and finding a nice location. Shana was honest, organized and creative in her suggestions and by no means pushy. We returned to Europe always in contact with Shana. Properties we thought were interesting, we immediately contacted Shana who would visit the location and give us feedback. Our second trip to the states we became home owners.
Linda and Enrico P.
Shana is very helpful and was always thorough. She found extra information that useful to us. We also appreciated the extra work she did to find all the extra information on multiple properties were were to be looking at.
Shirley and Chris M.
Shana Hamel was highly recommended by the owner of Key Solutions Real Estate when my husband and I decided to look into buying a winter home in the Sarasota area of Florida. When we met Shana, she was very friendly and personable. We had already filled out a form stating where we wanted to locate
and what we needed in a winter home. She picked us up at the hotel and drove us around to many gated communities always asking our input She was always upbeat and could answer all of our questions, or getting back to us if she needed to look further to get that information. It was a pleasure working with Shana.
Tom and Melody N.
Pending 6409 Bay Cedar Ln #26-202
Bradenton, FL 34203