Kayla Nevadomski
Realtor®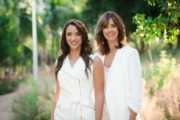 What sets The Nevadomski Select team apart is their passion for serving others through their real estate business.
In a competitive marketplace, Debbie makes it her priority to be attentive, efficient and prompt when communicating with her clients. Effortlessly, she makes her clients feel like they are the most important part of her day. Her 30+ years of experience and expert knowledge of the market makes working with her stress-free, as every detail is handled. All of these qualities allow her to create and sustain long lasting connections with her clients.
Kayla brings over 5 years of experience in sales, communications and marketing. She is tech-savvy, detail-oriented and known for her creativity and keen eye for visual arts and interior design. When working with clients, Kayla puts forth individualized effort to understand and deliver on each client's specific needs. Her personable nature make's clients feel at ease.
As a team and individually, Debbie & Kayla operate on extreme integrity, stand on their core Christian values and are passionate about helping and serving others. Being your realtor is more than a transaction to them because they believe in quality over quantity. Their success in both life and in business is not measured by a number but by the impact they have on those that they encounter.
"Our desire is to provide our clients with the highest level of service by offering personal attention and ensuring our clients are completely satisfied."