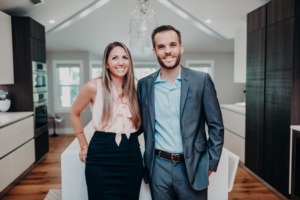 We take the time to understand who you are, to determine how and where you want to live. Choosing a real estate agent who has the tools, skills, diligence and expertise to make your dreams come true can be as challenging as the home buying process itself. Let us make it simple for you."
Brandon brings specialized training in financial planning, complex home lending solutions, contract negotiation, construction, remodeling, and property management. His financial services and property management background translate perfectly to his role as a real estate professional, keeping his clients confident throughout the entire transaction and current with the latest market trends and real estate investments.
Camille kick started her career by assisting a top grossing Sarasota agent specializing in high-end coastal real estate. She then furthered her knowledge with extensive training in listing agreements, contracts, vendor scheduling and all other real estate administrative duties. Originally from Sarasota, Camille was largely raised in the Channel Islands. With the added benefit of extensive travel and the European lifestyle before relocating back here, she is an expert at working with international buyers. Construction and design hold a special place in their hearts, particularly as it pertains to rehabs and remodels. Camille has a keen eye for interior design and together they have a vision for transforming old Florida homes and floor plans into your ultimate dream home. With a growing portfolio of rehabilitated properties to show, let Brandon & Camille walk you through every aspect of your home buying and remodeling experience.
As Sarasota natives, this hometown experience gives them incomparable, intimate knowledge of the communities that grace our area, making them natural specialists in neighborhoods located throughout Sarasota & Manatee Counties—inland, coastal, barrier islands and along our many waterways. Together they can assist you in finding the best property for your needs at the best possible price or help you find and create the home of your dreams.
Testimonials
Clearly knowledgeable re area, building and market Brandon was clear, patient and extremely responsive to all questions and issues. He's sincere, always helpful and an excellent communicator. Top of the line! Excellent in all respects- could not be better. I highly recommend Brandon as a real estate broker with no reservations. My buying process could not have been better.
Ed Orenstein
Every step of the way, Brandon was available, attentive and interested. He helped me make what I believe will prove to be a great decision on a property that met all my criteria. He has a lot of knowledge on the area, and is genuinely great to work with!
Katherine Westbrook
While looking for a vacation home, our visits were short and we had to be efficient with our time. We were new to the area, so finding an agent from the area and knew the area was important to us. Brandon was the guy! We came to visit 3 times, so our time here was valuable. He took us to see several properties all that met the criteria that we outlined in the initial meeting with him. As our criteria changed, Brandon listened and presented properties which met the evolving list. He always had a schedule and was well prepared for the day. Even after the closing, Brandon set the standard high, ensuring that we were able to move in, and find everything that we needed. For these reasons we HIGHLY recommend Brandon as a realtor of choice.
Steven Obermann
I had an Awesome experience with Camille! She is very friendly, always available and very knowledgeable. She was very patient during our search and went beyond simply showing houses by helping me with my detail research. I really recommend her!
Paola Suarez
Brandon Surline was right there every step of the way. I was out of the State and their immediate responses to everything going on was crucial. They kept me informed , scheduled services, worked with the closers , worked with association personnel. Things happened fast and they were right there to make sure we made it happen
KW
More Testimonials